Why choose composite decking
Ecodek's innovative composite decking is a smart choice for summer gardens
WPC Decking has long been a go-to option for anyone wanting to create a practical outdoor space that looks great too. For a strong, long-lasting product that works in any size and style of outside area, look no further than Ecodek's Signature AT Wood Polymer Composite (WPC) decking range.
This clever collection features reversible composite decking boards that offer two contemporary finishes as well as a host of practical benefits – it's a great way to ensure your garden is prepped for summer in style. Here's everything you need to know…
WPC decking
Designed by the experts at Ecodek, a UK-based designer and manufacturer of Wood Polymer Composite (WPC) decking, Signature AT is a solid composite decking board with a ribbed finish on one side and a grooved finish on the other. This cleverly designed deck board allows you to choose between two distinctly different surfaces without having to compromise on quality.
Signature AT is available in a range of colours – from traditional light and dark brown, to more contemporary grey and black tones – so is perfectly suited to any style of home (visit the Ecodek website for inspiration and ideas on how it could work in your space).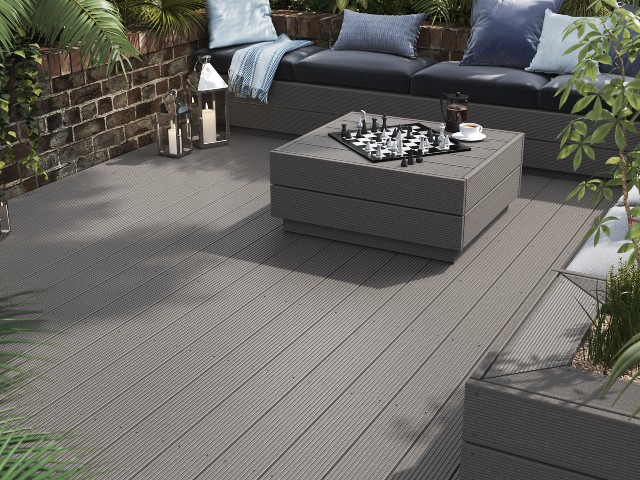 Long lasting and low maintenance
Manufactured from 95% recycled or sustainably sourced materials, Signature AT echoes the beauty of timber but with the many added benefits of WPC decking. Slip resistant and splinter free, the range is comfortable and safe underfoot in any weather. The boards are also rot and split resistant, making them durable, long lasting and extremely low maintenance.
Unlike timber decking, Signature AT does not require any treatments or paints, and a simple sweep and occasional wash will keep it looking like new. Great news for anyone with a hectic social schedule this summer!
Decking for smaller spaces
Ecodek has also recently unveiled its innovative Composite Decking Kit, which is based around the Signature AT range, and includes everything needed to create a 2.4m x 2.4m square decked area. The decking kit has been specifically developed with small gardens in mind, and contains the stunning Signature AT in Slate Grey, a rich charcoal that contrasts beautifully with outdoor flora and fauna.
As with all Ecodek's ranges, Signature AT comes with an industry-leading guarantee, providing product confidence and peace of mind.
Further information about Ecodek's Signature AT WPC decking range, together with details of its other composite decking collections, can be found at ecodeck.co.uk. Alternatively, call 01978 667 840 to speak to an Ecodek expert.